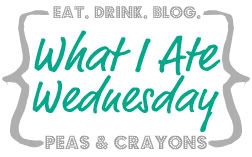 Hi friends!!
First, thank you SO much for all the support and well wishes I received about yesterday's adventure!!  I had so much fun and I'm planning to blog about the experience on Friday – so please come back!  I can say this – live television is crazy fast and very much a fly-by-the-seat-of-your-pants world.  And did you know that this was the FIRST time we've stayed in a hotel with Henry and Clara (that can't be right!?!  But neither Travis nor I can remember an overnight stay).  THEY LOVED IT!  Note to self –> put more money into the "Travel" envelope each month!
Today I thought I'd join in for a little WIAW fun and show you some of the eats and highlights from our trip!  You KNOW (or maybe you don't cause you're not tacky) that we had to hit up Cracker Barrel on the way over!  Plus Brittany gave me a great recommendation for lunch yesterday – Tomato Head!  It was spectacular – fresh, healthy and some of the best homemade hummus I've ever had.  We had some other yummy meals and a few too many car snacks.  I enjoy eating out as much as the next guy but a couple of days is enough for me.  I'm happy to be home!
———–
QUESTION:  How often do you eat out?  <-maybe once a week.  How often do you stay in hotels?  <-apparently not often enough!
splendid…lindsay