Happy ONE MONTH birthday, Porter!!  I'm working on a postpartum/baby update for you guys….but it'll be a "better late than never" situation.
——-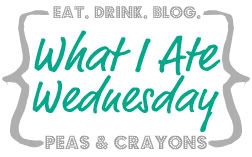 As promised from a couple weeks ago, I just have to share with you all of the food(s) that I've been eating lately.
Namely DESSERT.
aka SUGAR.
aka "I've-got-the-nursing-sweet-tooth!!"
This guy will eat anywhere…
I would tell you that blaming this sweet tooth on nursing Porter is just a cover for eating more sugar (which I've always, always loved).  But there's actually some evidence that I'm not alone in the raging beast – but nursing is not to blame! It's SLEEP DEPRIVATION.  (Go check out the research!)  Since my little man wakes me about 4 times a night, I definitely fall into this category.
I say until Porter gives me more sleep, BRING ON THE SWEETS! 
  Here's a look at the sweet (and some salty) that I've been eating these past four weeks.  To my credit, I've been eating more than my fair share of vegetables and salads too….
(….but only to counterbalance the sugar.)
Rice Crispy Treat cereal…just do it.
There are some healthy-ish things there….
An Atomic Fire Ball.  Remember these?
Easter candy (I actually only ate one piece.  Sad.)
Basil Rolls
Stove Top Cookies (with dark cocoa)!
Cereal.  Every night before bed.  Always a mix and always topped with banana and local honey.
Grilled Chicken Salad
Mother's Day pizza (grilled chicken, spinach, mushroom and pineapple) plus a complimentary (!!) baked apple thingy with ice cream
Unpictured:
Brownies, peanut butter bars, McDonald's vanilla soft serve, Sour Patch kids and lots of Ghirardelli chocolate chips.
————
QUESTION:  What's your favorite SWEET food??  (and if you say, "I really just love fruit.  It's so naturally sweet.  It's all I ever wanted," then we can't be friends.
splendid…lindsay