Anyone else have a sunburn from yesterday?? It was a toasty 73 degrees here in Western North Carolina! We spent the majority of the day outside and my skin is screaming, "Abuse! Skin abuse!" today. Not so much as screaming it as being easily offended when I brush up against things and freaking the heck out.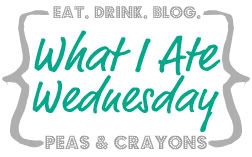 Anywoo…in honor of "What I Ate Wednesday," I wanted to share some of the foods that my kids LOVE to eat.  Some are healthy, some are not.
The rundown:
I'm the type of mom/person who feels like if my kids get 2 veggies and 2 fruits in a day, we've WON an award.
We buy mostly conventional foods but I do make a point of buying organic MILK, CHEESE and the "Dirty Dozen."
From April through September, our lunches consist of "Snack Plates."  see below.
Clara will eat anything under the sun (she seriously digs broccoli…dipped in ketchup) and Henry could live off of Applegate Chicken Tenders and PB&J's.
In my cupboard, you'll find whole grains, a box of Fruit Loops, all-natural fruit leathers, Lance cheese crackers and Blue Diamond almonds.
I try to balance what's on sale with what my kids will eat with what I would like for them to eat.
It all comes out in the wash and equals one big happy, well-fed, thriving family.  Above all else, we focus on a "food is fuel"-mentality and banish talk of calories or being skinny/fat.  We don't obsess.  Food is food.
Here's a look (aka every picture I could find of my kids and food):
——–
QUESTION:  Were you a good or picky eater as a kid?  What types of foods do you feed your kids?
splendid…lindsay