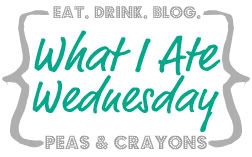 Hello Wednesday!
As I told you guys yesterday, food is starting to become appealing again!  I still have some aversions (anything greasy or too sweet) but for the most part, I'm turning a corner of wanting all.the.foods.  I love this part of pregnancy – the EATING.  I know two things about myself and food though:
1)  Due to my eating disordered past, I won't be a woman who "lets herself go" during pregnancy.  I just know too much about nutrition and can easily take this knowledge too far and become obsessive.
2) Luckily, I've grown up a bit.  I have no food rules or food guilt in pregnancy.  If something sounds good, I'll eat it (HUGE difference from the Lindsay of 10 years ago).  ….But always in moderation.
I feel like my approach to food (and fitness) has only gotten better over the years.  Some might look at what I eat and think it's unhealthy or "bad."  But I know better.  With a more relaxed approach, I'm WAY healthier than I was in years past.  Sometimes "unhealthy" is actually very healthy.
To that end, here's what I ate yesterday (which was everything I wanted to put into my mouth – no rules – just being thankful for food):
Breakfast
Protein pancake (Plant Fusion Chocolate P.P + Egg Whites, topped with maple syrup and PB2)
Post Workout
Banana – unpictured and scarfed down in the gym parking lot.
Pre-Lunch Snack
Bagel Thin with cream cheese (side note: I HAD to have a bagel and made Travis leave work, drive to the grocery store and get me one.  Keeper.)
Lunch
Janetha's Quick & Clean Chicken Noodle Soup (MAKE THIS!!  I added mushrooms but kept everything else the same.)
Afternoon Snack
Golden Delicious apple + sea salt
Dinner
Chicken Tender Salad (I only ate a bit of this – by the end of the day, I'm kinda DONE with food.)
—————–
QUESTION:  What was the best thing you ate yesterday??
splendid…lindsay