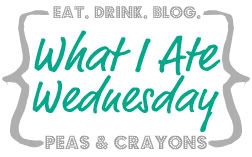 You know what?!  I flippin' LOVED
last week's
WIAW – I loved putting it together (and getting super hungry).  I loved thinking about WHY I don't eat those types of foods on a normal basis (hello digestion problems).  But what I really loved was the response that I got from you guys: some people played along and wrote out these amazing junk foods (that again, made me hungry) and others talked about WHY they don't eat those those types of foods.  I think that the general consensus was this:  YES, it's fun to play the, "If I could eat anything game," but at the end of the day, it's more important to honor our bodies with whole, nutrient/vitamin rich foods.  We feel better, we perform better, and our bodies appreciate being nourished.  That's a food movement I can get behind!  That's what I want to pattern for my kids!
Today I thought I'd show you a REAL day of eats, along with some fun new products I've been reviewing from Schwan's.  Let's get to the food first!
Breakfast
Two eggs, scrambled with spinach and a side of beet juice.
Snack #1 – Post Workout
Schwan's Tropical Smoothie =
Schwan's Golden Fruit Blend (1 cup) + Vanilla Plant Fusion (1 scoop) + Almond Coconut milk (8 oz.)

Lunch
Avocado + Broccoli + Brussel Sprouts + Spinach + Turkey Sausage + Hummus + Nutritional Yeast
Snack #2
Good N' Natural bar (new to me and on sale!  Pretty good too.)
Dinner
Schwan's Wild Alaskan Salmon (with a Honey Dijon marinade) + Baked Sweet Potato + Steamed Vegetables
Snack #3 – Post-Reheasal/Pre-Bed
Gala Apple + Natural Peanut Butter
A pretty great day of food, I think!
Now let's talk for a minute about Schwan's.  Through my partnership with Fitfluential, I was offered the chance to review a couple of items of my choice from Schwan's.  This company has SO MUCH food to pick from, ranging from meats, seafood, meals (think pasta, enchiladas, stir fry), ice cream, dessert, fruit and vegetables.  I have vague memories of my parents buying Schwan's when I was growing up – mostly their pizzas and the occasional ice cream.  You might have seen Schwan's vans before – they deliver right to your door for free.
I selected two items from their "LiveSmart" line: the Wild Alaskan Salmon and the Golden Fruit Blend.  All of the LiveSmart items contain no trans fats, minimal preservatives and additives and are also low in sodium.  I was really pleased with the quality of this food!  I've been making daily smoothies for myself and the kids using the Golden Fruit Blend, which contains strawberries, peaches, mango and pineapple.  All the fruit tastes SO fresh – it's flash frozen while in season.  The same for the Wild Alaskan Salmon – it's caught and then immediately frozen so that it comes practically fresh to your door.  Plus, it was really easy to thaw in the sink (or the fridge if you have time, but who has time?!) and then just bake for 20 minutes.  Easy peasy!  Thanks, Schwan's!!
Learn more about Schwan's by visiting them online and see if you're in their service area!   You can order online or via catalog – and shipping is free!  It's like grocery shopping in your pjs – but I kinda already do that anyway.  THIS involves not leaving the house.  Again – easy peasy.
———-
QUESTION:  Have you ever tried Schwan's home delivery??  Tell me one thing you ate yesterday that I need to know about!
splendid…lindsay
**Schwan's & Fitfluential sent me this food to review.  All opinions expressed are my own.