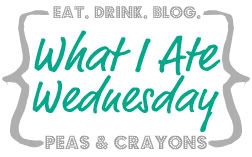 I remember seeing
Janetha
do a post like this a LONG time ago and I thought it was just the coolest idea ever.  A "What I Ate Wednesday" post that didn't showcase all of our healthy eats, but rather, what we WOULD eat if calories and our waistlines and our vanity wasn't an issue.  I think about this a lot actually, and I'm pretty sure I'm not alone.  What would your typical diet look like if you KNEW NOTHING about nutrition or health?  What would you eat if calories and fat grams weren't relevant?
The answer?  You would eat like a child, if the child had no parents forcing them to eat their vegetables.  No limits.  No restrictions.  No vegetables and a whole lot of grease and sugar.  Simply put, you would eat solely for pleasure.  Basically, it would look like Peter Pan's diet on Neverland island.  That's what I'm thinking.
Side note: how cool would it be to FLY!?! (which is THE ultimate superpower and if I'm ever on a game show and that's a question you're asked about me – "What is Lindsay's favorite super power?" – the answer is flying.  And eating lots of junk food with zero consequences.)
Anyway, here is what I would eat if I were Peter Pan, in no particular order (and I had to limit myself to only 8 because I ran out of time):
1.  Breyer's Oreo ice cream
2.  Ghirardelli Brownies with Reese Chips mixed in
3.  Cracklin' Oat Bran with whole milk
4.  California Pizza Kitchen's BBQ Chicken Pizza
5.  Mamaw Dot's Coconut Cake with Google Gaggle
No picture.  Just close your eyes and imagine a freshly baked slice of coconut cake slathered in a vanilla boiled custard.  My mamaw makes it every year for our Christmas Eve dinner and it is HIGHLY coveted by anyone who tastes it.  Mouth watering right now!
6.  Sour Patch Watermelon candies
7.  Anything from Outback Steakhouse
8
.  Reese's Eggs
Honorable Mentions: 
Chicken Sandwich and Onion Rings from Burger King
Wendy's French Fries dipped in a Frosty
Dunkaroos with Chocolate Frosting
Banquet Chicken Pot Pie
———-
I'd love to be able to tell you that I'd be ok eating all of these foods all day long. That I'm secure enough with my body to gorge on junk food. But that'd be wrong on multiple levels. First, and most importantly, I really actually like the way I FEEL when I eat healthy foods. My energy levels, my digestion, my skin, the way that healthy foods fuel my workouts. All of those reasons are enough for me to continue eating a 80/20 diet plan.
But…. I don't think any food should be off limits.  I eat all of those foods I listed out and will continue to do so when I'm old and gray.  I think there's a (small) place for these types of foods in a healthy lifestyle – file these under "Foods That Nourish My Inner Fat Kid."
QUESTION:  Let your inner fat kid out.  What would you eat if calories and nutrition didn't matter??
splendid…lindsay