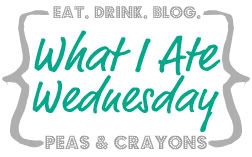 As I discussed in this previous poop post, I'm exploring a low sugar, dairy free diet right now.  Today marks Day 30 with this diet change that I'm trying out and I must say, it has VASTLY improved my digestion problems.  I really think taking out a lot of the excess DAIRY has been good for not only my poo problems, but it's helped clear up my skin and I just feel less bloated.  I should tell you – I'm not reading every single label to see if it contains dairy, but I am focusing on eating REAL FOODS and not PRODUCTS so that I don't have to read any label.  The foods that I've been eating don't have labels (they have stickers and I very nearly ate one on an apple the other day – you hear that the average person consumes like 10 spiders in their lifetime – I wonder how many fruit stickers we eat???  Hmm..)
I'm eating less sugar because, well, it's really not healthy for you.  Like at all.  My acupuncturist said to cut out white starches to help heal my gut – so by eliminating "white foods", I've drastically reduced my sugar intake.  Drastically because I used to eat sugar with nearly every meal.  (I've also been known to have open bags of Ghirardelli milk chocolate chips in my pantry just for snacking.  Anybody else?!?)  I'll share a recipe below for one of the ways I'm dealing with my sweet tooth.  I'm still eating NATURALLY occurring sugars (such as fruits, agave nectar and honey), but cutting out the refined stuff.
The difference in how I feel now versus back in December is HUGE.  I'm not sure how long I'll be dairy free (it could be a couple of months or it could be forever), but I know I'll do whatever works.  This works for me!
Without further ado, here's everything I ate yesterday!
Breakfast  (Pre-Workout)
Two whole eggs + two extra egg whites + diced sweet potato + salsa
Snack  (Post-Workout)
Trail Mix, minus the M&M's.  Ok…I had 2.
Lunch
Broiled Tofu Squares + Brussels Sprouts + Broccoli + Carrots + Hummus + Annie's Roasted Red Pepper Dressing
Snack
Whole Juice = 1 Beet, 1 Carrot, 1 Apple, 2 cups Spinach, Ginger & Lemon
Dinner  (Post-Rehearsal)
Stuffed Red Pepper = Red Pepper + Quinoa + Black Beans + Mushrooms
Snack  (Dessert!)
Vegan Chocolate Pudding
Ingredients = 1 cup water + 10 diced dates + 8 diced figs + 2 tbsp. natural peanut butter + 2 tbsp. dark cocoa
Place ingredients in a Blendtec (or other high speed blender or food processor).  Blend until smooth.
Oh man!  This stuff is good! You can also sub out the peanut butter for any other nut butter.  I like to freeze it just a bit so that it resembles soft serve.
Let me know if you try it!
—————
QUESTION:  Tell me the BEST THING you ate yesterday (or today)!  Have you experimented with a dairy free diet before?
splendid…lindsay