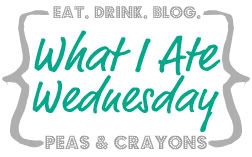 Thank you, Jenn, for hosting!!
Before I get into my latest eats, I think I need to add a disclaimer to this post.
**I am dealing with morning sickness that has essentially robbed me of my appetite for the past week or more.  I go through this with all of my pregnancies, so it isn't anything new, but every time I get into this stage, I'm completely sidelined.  The food that you find below is in NO WAY a correct representation of how I normally eat or would suggest that anyone eat!  I'm doing a WIAW- Morning Sickness Edition because I've never seen it done before.  And I'd also like to give any tips that I can for anyone going through this.  So again, do not aim to eat like this.  I'd give ANYTHING to eat normally!  Another couple of weeks and this too shall pass.**
Breakfast:
After sleeping 11 hours and eating a saltine every three hours during the night (MS Tip #1 – It helps to have a bit of food on your belly at all times during the night), I wake up to find Henry peeking into my bedroom.  Before I get out of bed, I eat 2 saltines and wait about 10 minutes before I slowly put my feet on the ground.  (MS Tip #2 – Don't perform any movements quickly – slow wins the race.)
You probably already know this, but morning sickness doesn't just happen in the morning for most women.  It is typically an all day affair, but the mornings are harder because you don't have as much food in your belly.  Immediately after I get Clara out of her crib, I make them breakfast and then make myself a piece of toast with cream cheese and almond butter.  I have no appetite or desire for this, but I know that it will stick to my bones for a couple of hours so I eat it.
Washed down with sips of ginger ale and two ginger pills.  (MS Tip #3 – Ginger helps to soothe the belly.)
Snack #1:
Before heading to the gym to train a client and teach Aqua Power, I grab a Gala apple, cut it up and eat a 1/3 of it on the road.
Between my client (hi, Sarah!) and Aqua Power, I eat another third.  Aqua Power actually goes well and this is the first time I've done anything besides walking in FIVE days.  (MS Tip #4 – Do whatever kind of exercise you can! Low impact activities are best – jumping is not advised. Get outside if you can!).  Clara ends up eating the last third of the apple.
Lunch:
After my class, I pick up the kids from KidZone and take them to lunch.  I order a wrap but don't eat it.  Instead, I take a quarter of Clara's grilled cheese and slowly nibble on that.

When we get home, I put the kids down for a nap and then I zonk out for about two hours. Sleep is a relief – there is little nausea and I can escape.  This is the reason why I've been going to bed at 8:30pm every night.  Kind of depressing, but it's how I'm coping right now.  I know this won't last forever.
Dinner:
Mom invites us over for dinner and I gladly accept.  Anytime I don't have to cook, I'm there!  (MS Tip #5: Stay away from cooking smells!  Pregnant women have a heightened sense of smell and some food smells can send them running for the toilet.)
On the menu: Baked turkey breast, homemade mashed potatoes and gravy,
macaroni and cheese, steamed veggies and Sister Schubert's rolls.
When we got there, I plopped down at the table and asked Travis to fix me a plate.  I ate about 1/2 of this, again, as slowly as possible.
And that's everything (and I mean everything) that entered my mouth on Monday.
Some Observations/Thoughts:
-> I'm doing something that so many women can not.  And as sick as I might feel, I know that I am BLESSED beyond anything I deserve. Thank you, God for this new gift!
-> Having this MS has made me unwillingly detox from two things I was heavily addicted to: COFFEE and SUGAR.  No wonder I have a headache. 
-> There are no thoughts of macronutrients or calories or being well-rounded.  No worries over getting x amount of protein or vegetables in.  There are only thoughts of survival.  What can I eat next that won't make me barf?  I can guarantee you that it's not broccoli.
-> I'm thankful that I don't work an 8-5 job.  I have great sympathy for any of you mamas who had to put on a brave face for 8 hours a day.  I do admit that I've been sucking it up in the Mom Department lately – luckily I have an amazing husband and mother/mother-in-law who have filled in my gaps.
———–
Here's the thing…I know that I will get through this.  Yes, I'm in a dark place and could use some prayer.  But I also know that during my weakest times, God is working.  He's making me a stronger person.  And that's not just hopeful thinking – it's written right in His word.
Romans 5:3-5 – "Not only so, but we also glory in our sufferings, because we know that suffering produces perseverance; perseverance, character; and character, hope.  And hope does not put us to shame…."
————
QUESTION:  If you've gone through MS, what seemed to help?  What was the best thing you ate today?
splendid…lindsay