This isn't your Mama's typical WIAW. 
Or rather "yo". 
Yo Mama just rolls right off the tongue, right?!?
I'm not about to show you what I've been eating lately.  (mostly because it would lead you to believe I'm a twelve year old boy going through puberty – think Chocolate Cheerios and gallons of whole milk.  That actually sounds like a pregnant 30 year old woman.  Hmmm…).
Oh no.  Not yet.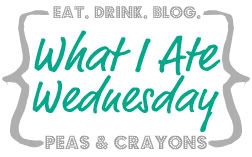 This "
What I Ate Wednesday
" is all about the
Protein Pancake
.
I simply cannot get enough of it. 
Morning, noon and night, this is now my "go-to" meal. 
For one, it's easy.  And if you've been paying attention to ANYTHING I've said over the past year of blogging, you've come away with the impression that I'm not the greatest cook/baker/chef (or stylist.  Or patient person lady). 
Kudos!  You get an A+.
This pancake is easy, yes.  But it's also SO healthy!  Chock full of high quality protein (from three different sources), these little guys keep me full for at least 3 hours (a true feat).  I like to top mine with almond butter, mini chocolate chips and Xagave. 
You can top yours with Chocolate Cheerios if you want.
The Best Protein Pancakes You'll Ever Make
Ingredients:
1 scoop vanilla protein powder (I use fitmixer Vanilla Milkshake)**
1/3 cup liquid egg whites
2 tbsp. cottage cheese
1 tbsp. ground flax
Heat a nonstick pan – medium heat.  Put ingredients in a small bowl and stir until well combined.  Pour into hot pan.  Flip pancakes when they start to bubble in the middle (NOT before!!  You'll just get sweet scrambled eggs!).  Enjoy with your favorite toppings and a hot cup-o-Joe!
**While the fitmixer powder is solely whey, I've also tried this recipe with a whey/casein blend and it turned out a bit fluffier.  Experiment with the protein powder of your choice!
I'm off to get ready for someone special's birthday party (Make-Your-Own Banana Splits, anyone?).  His name rhymes with Blenry and he's ready to turn four tomorrow.  REALLY ready, as I've been forced to hear about how it's his birthday soon and how he's "going to turn four, then five, then win a race."  Ok, bud.
QUESTION:  What is your favorite easy "go-to" breakfast?? 
splendid…lindsay