I rarely (if ever) show you guys what I eat in a single day. 
I'm not exactly sure why that is – all I can gather is that I'm a very boring eater.  I eat a variation of the same 5 fives things every single day:  eggs, cereal, protein powder, vegetables and roasted almonds.
The thing is: I actually LOVE reading about what other people eat – those blogs where they show you every meal, yeah, I like those.  WHY?!?  Why ARE food blogs so popular?
Oh yeah.  I remember.
Food is good.  Food is fun to look at.  And food can either be a great tool that fuels our bodies or makes us feel crummy.
I choose to fuel.
But that hasn't always been the case.
My Food History:
Childhood through Middle School –
I ate whatever the heck I wanted!  (within reason, as I couldn't exactly go buy my own groceries – my parents kept pretty healthy food in the house).  I do remember eating entire sleeves of Oreos, dipped in milk.  Croissantwiches at Burger King on the lucky mornings when Momma would take us out before school.  Mugs of ice cream.  Afterschool snacks of Ritz crackers with peanut butter slathered on top.
Early High School –
I started to become more aware of how many calories and fat grams were in things.  I still had no clue about proper nutrition.  I distinctly remember there being a cafeteria rule of "Only five little smokeys per lunch tray," and disobeying this rule by hiding little smokeys under my macaroni and cheese.  Rebel.
Late High School (Junior/Senior Years) –
Enter eating disorder.  Every calorie counted.  Sample day:  No breakfast.  1/2 piece sugar free gum.  1 1/3 cups of HoneyComb cereal for lunch.  Bowl of steamed vegetables and 1/2 baked potato for dinner.  Sad, dark days.
Early College (Freshman/Sophomore Years) –
Anorexia turned to bulimia.  I ate more calorie dense foods and purged them.  Still – I probably ate 1,000 calories a day.  Again, sad, dark days.
Late College (Junior/Senior Years) –
Healing and recovery begins!  I start weightlifting with Travis (he actually turned me onto the whole idea of lifting – before him, I was doing only cardio.  A LOT of cardio!).  Since you can't really build muscle without protein, I began to increase my overall calories, but also focused heavily on protein.  Enter LOTS of protein powder and protein bars.
Early Marriage/Pre-Pregnancy –
I started reading more diet books (Abs Diet, Tosco Reno's "The Eat-Clean Diet") and a HUGE shift occurred in my brain.  Food became FUEL.  Food wasn't just calories that I needed to count or something that made me feel better/worse emotionally.  It was during this time that I started truly appreciating WHOLE FOODS.  It was also when I adopted an 80/20 approach to eating.
Pregnancy/Breastfeeding –
I like to call this time, "Hungry, Hungry Hippo."  Every day/trimester was different – some days I was nauseous and couldn't eat anything.  Some days vegetables tasted good and I ate healthily.  Then other days – well – I ate a whole lot of sugar and fried meat.  It was a crap shoot.  Even though I wanted to – I never weighed myself during my pregnancies!  I also didn't revert back to counting calories. A blessing – for me and I know for my growing babes.
NOW –
Food is fuel.  Food is tasty.  Whole foods make me feel better than crappy, processed foods.  I still eat Chex Mix and brownies – but in moderation.  I don't count calories.  I eat until I'm satisfied.  If anything, I try NOT to focus on food – I can easily become obsessed.  I'm trying more and more to eat what is put in front of me and be grateful for it.
A work in progress.
——
To see more food porn, go to Jenn's site for more WIAW posts!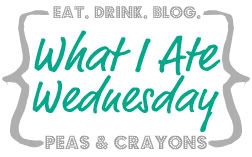 QUESTION:  Give me your food history.  Or your current relationship with food.  Go!
splendid…lindsay