I swear this is the last recap.  While I'm sick of writing them and would rather tell you about the giant mess that I've made in not getting all of my swag bag stuff put away (and all the crumbs from eating 3 bags of Popchips), these recaps will give me something to look back on – like a virtual scrapbook.  So I must trudge through the mess and finish it out.
Plus, this particular recap day includes some DRAMA and we all know how amazing drama is.  Just having said that, you want to keep reading.  I know it.
I left you yesterday having recapped Saturday in it's entirety (which also included a 10pm bedtime because I wear Depends).  So I slept like a log.  The Hyatt had great beds – not so great pillows. 
Woke up ready to run the Fitbloggin' 5K Race!
The race started at 7AM and it was BEAUTIFUL (yet again – I couldn't have asked for better weather).  Meg, Laura and I decided to stick to a 7:30-8 minute mile pace.
Everything was going great, until it wasn't.  As I alluded to in the title, this could technically be called WIAW….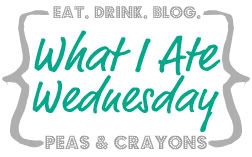 I ate the PAVEMENT.
Around Mile 2, I was just being awesome like normal and a brick came up out of the sidewalk and tripped me (a ninja brick, no doubt).  I fell (weirdly – and to the side) and rashed up my hand and arm, cracked my iPhone screen and tore a hole in my Lululemon pants.  First world problems, right there.  Wah wah.
After the initial shock, I got up and kept trucking along, to finish the race in 24 something – not too shabby.  Meg was kind enough to bandage me up (thank you!!) and I was able to eat breakfast without blood getting in my yogurt.  Sometimes I don't know HOW I function on a daily basis.  Pure grace with a dash of good luck.
After breakfast, I talked with Hank and Bex for a little while (but wasn't allowed to give Hank a hug – Travis forbade it – it's his sexy beard.), then headed back to the room to shower and pack.
Around 11, a Super Shuttle came and picked Meg and I up.  BWI was very easy to manage and we found ourselves at the same terminal with time to spare.  Lunch was a necessity!
We found a Nature's Kitchen – I've never heard of these before – and it had tons of healthy options.
Pretty Meg
Spinach tortilla wrap with grilled chicken, cucumbers, spinach, avocado and mustard
While we waited for our flights, Meg turned me on to the Mac world.  Did you know that you can use Windows Live Writer with a Mac?!?!!  You just need two things:  Windows OS and a program called Parallels and a husband that's willing to spend $1,200.  I'm working on him.
Women's Health, something sweet, and souvenirs for H & C.
My flight didn't get in until 6pm, which was perfectly fine, as I was greeted by my most importants with the best hugs ever.
Till we meet again, Fitbloggin'!  You were a whole mess of fun.
A VERY special thank you to fitmixer for compensating my travel, lodging and ticket for this event.  I was proud to represent you!
QUESTION:  What is ONE thing you always have to buy at the airport? 
splendid…lindsay