I smell a Thursday.
Almost a Friday.
Almost the weekend.  Almost time to hike with this girl and go eat my weight in BBQ at this festival.
Today also marks the return of Tuesday Trainer!
Kinda.
I'm sure you've noticed that I took a little break from TT.  Especially after
this
post.
Honestly, I was getting a little resentful of the feature.  Resentful of the time it took for me to film the moves and create the workouts.
And I hated having to hound people for submissions.
(I'm not judging anyone.  I TOTALLY get why people couldn't submit – it's a time commitment for sure.)
I never wanted TT to be:
A hassle or a burden.
A means of segregating (fitness levels, body types, etc.)
Just another thing on your list.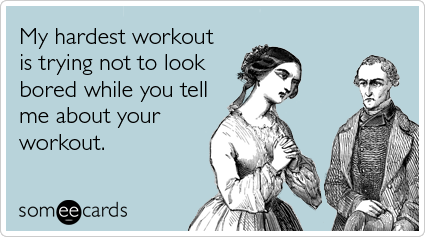 My goals for TT have been to:
Showcase exercises, new and old.
Showcase bloggers and move traffic to their sites.
Create workouts that people would do.
Inspire and inform.
I love this feature.
I believe in it.
I think fitness is for everyone and it should be free (but hire me to be your PT). 
I don't want to stop Tuesday Trainer. I just want to scale it back a bit.
That's why we're now doing it on a MONTHLY BASIS!
The last Thursday of every month, I'll post a theme.  Then we'll do Tuesday Trainer the following Tuesday.
You'll still only have 5 days to film your move (submissions will still be due at 8pm EST), but I think that 5 days is enough time to do this in.
So basically all that is changing is the intervals at which you submit – once a month instead of once a week.  Everything else will stay exactly the same.
With all that said, the next Thursday's Theme will be August 30th, leaving the next Tuesday Trainer to be September 4th.
I'm pumped, dude!
QUESTION:  Speaking of returns, what is one thing from the 80's or 90's that you wish would RETURN??  <-me?  POCKET ROCKERS!!!  Does anyone remember those?  Please say yes.
splendid…lindsay
**PIN the crap out of these workouts please!!!!**