Has this week been dragging for anyone else? 
I seriously thought that it was Thursday ALL day on Tuesday.  There's nothing worse than thinking you're close to the weekend, then looking at Mr. Board and realizing the week just started. 
Who wants to go drinking?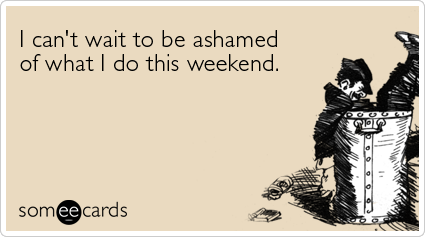 Mom, these are jokes. 
But seriously, DJ Pauly D is going to be at Harrah's Cherokee Casino this Friday (don't ask me how I know this).  Who wants to go?!?!  (If I had hoochie-wear, I'd sport it.  Unfortunately, I'm a mom and that's looked down upon.  Oh to be a hoochie again.)
Double blogging points for using the words, "hoochie" and "DJ Pauly D" in the same post.  Points awarded, now let's steer this ship in the opposite direction.
The theme for this week's Tuesday Trainer is TABATA!!  (We've done one tabata workout before – so I basically stole all of my old info from that post because I'm lazy and well, why not.  I DID film a new move though!)
For anyone not familiar with this crazy term, here is a quick overview: (source: Men's Health)
Who invented Tabata?

Dr. Izumi Tabata and his colleagues at the National Institute of Health and Nutrition wanted to establish the minimum amount of training needed to increase fitness.

What did they find?

The results of their research were astonishing – the team tested athletes' VO2 max (the point at which they get winded) and found that those who followed the Tabata formula increased their VO2 max by 14% in six weeks. According the journal Medicine and Science in Sports and Exercise, "Six to 8 very hard 20-second intervals with 10-second rest periods may be one of the best possible training protocols."
So how do you use Tabata training as a workout tool? It looks something like this:
20 seconds on. HIGH INTENSITY!!
10 seconds off.
Repeat for a total of 8 times – 4 minutes total workout time!
I know you're thinking, "4 minutes?!? That's not a workout!" I promise – when you work to your max during those 20 seconds, you'll get out of breath quite quickly and force your body to workout ANAEROBICALLY! Tabatas are designed so that you won't NEED to workout any longer than 4 minutes, but if you are advanced you can do a few rounds of 8 OR pair a Tabata with some cardiovascular training. As always, listen to your body!
So here are my Tabata moves:
Just to re-emphasis: I want TWO exercises. Perform one for 20 seconds, rest for 10. Then perform the second exercise for 20 seconds. Got it?
Some tips for TT newbies:
Tell us who you are!  If you blog, tell us the URL!
Do the exercises correctly!  I can't post videos with improper form or sketchy descriptions.
Be yourself – let that personality shine through!
Anyone can participate.  Man, woman, blogger, non-blogger, sheep.  Anyone.
Video submissions are due next Monday, the 23rd, at 8pm, EST! Please have them to me before the deadline! Go here to learn how to upload your video.
Birthday-Palooza GIVEAWAY TIME!
We've got two giveaways left this week!  If you missed out on the last three, BE SURE to go back and enter them – fitmixer on Monday, Chobani on Tuesday, Probar on Wednesday and…
Green Mountain Coffee today!!
I have a deep love for Green Mountain Coffee (GMC). Here's why:
They were the Official Coffee Sponsor at Blend, supplying FOUR Keurig machines and 600 K-cups to our attendees!!! 
GMC puts a great deal of effort into selecting the very best beans for their roasts, even going so far as to promote the ecosystems from which they derive the beans.
They are FAIR TRADE Certified, which means that GMC pays their farmer-partners a fair wage for their coffee. This act promotes healthier working conditions and greater economic incentive for the coffee farmers.
GMC makes some tasty, tasty coffee that keeps this sleep-deprived mama HAPPY!
GMC's newest line, Brew Over Ice, is the cat's pajamas.  Since iced coffee is all the rage, GMC put a lot of thought (and math) into creating K-Cups that would work perfectly brewed over ice! You're going to have the chance to win a box of these today.
Actually THREE of you will be winning either a bag of GMC's coffee or a box of GMC K-cups!  The three winners get to pick what they'd like – the flavor and the type!!  Thank you so much, Green Mountain Coffee!
Giveaway will run through Sunday night and I'll announce the winners in Monday's post!  Good luck, coffee drinkers!
splendid…lindsay