I truly got into the Tuesday Trainer theme for next week.
I napped yesterday.  Like a sleepytime bear.  Like my children.  Like other people and things that nap.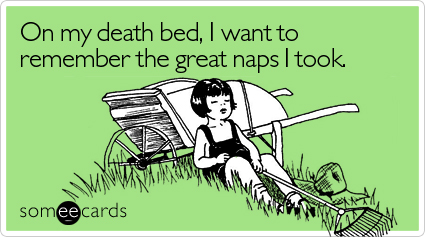 It was glorious and just what this tired, overrun body was craving. 
(I say give in to your cravings every once in a while.  What's the worst that could happen?  ((you could neglect the dishes, stain your pillow with drool and show up late to your step aerobics class)).  So maybe don't give in so much.)
Anyway…
The (timely) theme for this week's Tuesday Trainer is REST!!
That's right –
it's "Meet Your Trainer" time!
Meet Your Trainer submissions give us all a chance to see your personality a bit more.  Here's how it goes:  I ask a set of questions.  You respond with your answers through a video submission.  Easy as pie (yum, pie.)
So here are the questions:
What is your favorite exercise to get your heart rate up?
What is your favorite workout pant?
What time of day do you prefer to workout?
And I'm adding one more that isn't in my video – Show me a unique talent (ex: can you click your tongue or cross your eyes?)
Here's my "Meet Your Trainer":
Some helpful guidelines:
If you've never participated in Tuesday Trainer, you can still submit a Meet Your Trainer!! Anyone can participate!!
Don't afraid to be yourself! Show some character!
Wear comfy clothes. But please, wear clothes.
Try not to ramble – submissions should be no more than 4-5 minutes long.
Remember to introduce yourself and your blog.
***DEADLINE for submitting moves is Monday night, the 18th, at 8pm EST. Again, go here to learn how to upload your video!***
That's all I got.  Jetting off to teach Beginner's Step, which after Monday's class, it should be easy as pie (again, yum.  Pie.) 
P.S.  Last day to enter the p28 Giveaway!!  Two winners!
splendid…lindsay