I hereby decree – "Christmas 2011 may commence."
There.  I said it.  You may all eat your candy canes now.
Christmas usually starts the day AFTER Thanksgiving, but this year, the stars just didn't align.  But now, now I'm on board.  Let's do this thing!
A few reasons why:
White Elephant:
After I "didn't post" on Saturday, Travis and I got all gussied up and went to my gym's Employee Christmas party.  It was a blast!  Great Italian food, good conversation and it was really fun seeing everyone out of their sweaty, workout clothes.
We were told to bring two gifts (one for us, and one for our guest) and we played "White Elephant".  I'm not even going to TRY to explain how the game is played – go here if you want to know.
The price limit was $10, per gift.  I brought two $10 gift certificates to our local coffee shop (and was inappropriately thrilled when they became the hot commodity gift).
There were normal gifts, like coffee mugs and body lotion.  There were some sexy gifts, like wine and cheese and edible underwear (you read that right).
Then….there were the gifts that we came home with:
I know.  I know.  I know!  Who wouldn't want a humongo remote control and a pound of sketchy shrimp?!?!  I do believe those are, quite possibly, the two weirdest gifts one can bring home!
It actually worked out well because the remote has been a huge (pun intended) source of entertainment for Henry and Clara.  And the shrimp, well, I ended up boiling it last night.  We did the "stand over the pot, peel a shrimp, eat a shrimp" dinner.
Low carb, so that I could eat a big bowl of ice cream for dessert.  Balance.
Next year, I've decided that I'm taking the weirdest gift possible.  Like vacuum bag replacements.  Or a quart of motor oil.  I've got a year to plan it.  It's gonna be good.
Blogger Cookie Swap
I finally mailed out all of my cookies for the Great Food Blogger Cookie Swap.
Since I'm neither great or a food blogger, I'm not quite sure how I got involved, but I did.  I'll be blogging about this whole thing in more depth next week.
Let's just say, I'm feel a little sorry for the poor girls who were assigned to me.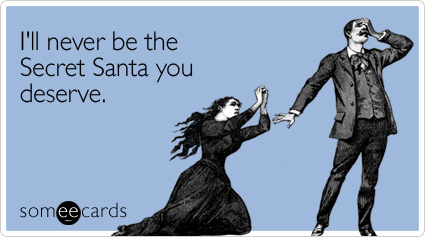 I already RECEIVED one of the cookie packages that was coming my way!  And I've already eaten 3 of the 12 treats.
Christmas Cards
I ordered our Christmas cards on Friday!  We had family photo shoot almost a month ago, so this has been on my to-do list for quite a while now!  I can't really show you all the images just yet, seeing as they'll be part of some Christmas presents for our parents.  Just one won't hurt.
The "One Where I Become Concerned with Henry's Fascination With Hair"
Christmas Tree
While I was busy setting out food at our church's covered dish yesterday, Travis somehow found, bought, paid for, and tied down a Christmas tree on top of our Honda Pilot.
In my mind, Travis wrestled with that thing for a good 10 minutes before finally beating it into submission. 
Fresh Christmas trees are really the way to go.  Sure, I might have needles and sap stuck to my socks, but if you know anything about me, you'll know I don't mind vacuuming.
A little to the left.  Now the right.  Oh, forget it.
Growing up, my dad, his dad and my uncle all farmed Christmas trees.  Selling them is how my parents paid for our Christmas presents.
Every year, Katy and I would just walk out our back door and go tag a tree.  Dad would dig it up, bring it in, then we'd smother it in huge colored lights (I think they're calling them "retro" now) and homemade, popsicle stick ornaments.
We stuck to the basics this year: lights, ribbon, beads and, of course, candy canes.
Henry was wise.  He kept breaking off the hook part of the candy cane, rendering them impossible to hang.  What's a guy to do? …I'm on to you, bud.
We also set out the nativity scene.  I'm willing to bet that at least 4 of the pieces get lost.  That, or I'll be offered a few to eat when Henry plays kitchen.
Is it just me, or are they making wise men with SUPER large noses these days??
———
After a dinner of shrimp and candy canes, Travis and I put the kids down, listened to Pandora's "Classic Christmas" channel and admired the tree.
The smell.  The lights.  The crooked angel on top.
It finally feels like Christmas.
I hereby decree.
QUESTION:  Do you put a Christmas tree up?   Fake vs. Real?  How do you get in the Christmas mood? 
splendid…lindsay