I lied last week.  This topic, which consumed at least 3 years of my life, deserves more than two posts.  So I'm not really putting a definitive number of when I'll complete the series.  I can say with all honesty, that getting this all out of my head and onto the blog, has already proven to be a kind of therapy.  Thank you for reading.
If you missed Part I of this journey, go here to catch up.
I guess the best place to start would be right where I left off…Coincidentally, it was right around Thanksgiving.
I wore semi-baggy clothing to hide myself from scrutiny. Which seems odd, because at first, that's all I wanted – for someone to notice that I was thin. As my anorexia grew worse, my thought process shifted. I didn't want to be stopped. I didn't want anyone to know and take back over. I only wanted to get smaller. And smaller. And smaller.

It wasn't until the fall of my Senior year, that someone noticed and said something. Only it wasn't the person who I needed to hear concern from. And I certainly wasn't ready for help.
I remember that bus ride like it was yesterday.
My high school cross country team had just won a pretty important race and we were on our way back to the high school parking lot to pick up our cars.  Although we had won the meet, I had raced particularly bad that day.  I'm sure it had something to do with the fact that I had only eaten 150 calories that day – though I would have never put those two things together.  You ran well or you ran poorly, based on how hard you were training.  Maybe I hadn't trained hard enough – I should have doubled up my running the previous week, instead of hanging out with friends.
I'm sure I was sitting alone, going over the race in my head, when my coach said, "Lindsay, come up here."
That never happened.  I never got called to the front.  Or to the office.  Or called out in class.  I was the perfect student.  The perfect daughter.  The perfect girlfriend.  I disciplined myself to be that way – a tried and true "People Pleaser".  You didn't get scholarships and awards by being the one who got called to the office.  You moved forward in life being the person who everyone could depend on and the person who did as they were told.  I was that girl.
He said, "You look really thin."  In my mind, that was a compliment.
"I've noticed that you don't have as much energy as you used to have."
That meant, "You're a bad runner."
"Do you need help, Lindsay?"  That equated to, "You've lost control.  You need someone to fix you."
I can't remember what my exact response was.  I'm confident that I said something that HE wanted to hear.  That I knew I was too small and that I'd try to gain weight.
That was a lie.
Somehow his innocent (and caring) comments about my weight and my performance triggered something inside me – I needed to prove that I didn't need anyone to fix me.  That I was just fine.  That I had total control.
That I could push my body to it's next limit.  Straight into bulimia.
The Rocky Middle – Part II
For someone with an eating disorder, holidays, birthday parties and family get-togethers are a true nightmare.  They are a) a change in the controlled environment that you've worked so hard to maintain and b) laden with calorically dense foods.
Thanksgiving of 1999 happened right after I crossed that thin line from anorexia to bulimia.
**Gah!  This is REALLY hard to talk about.  Anorexia is clean.  You just stop eating.  It's almost an act of passiveness.  Bulimia, on the other hand, requires action.  It's dirty.  You get dirty.  Your face and fingers get dirty.  Just thinking about typing these things out, makes me more aware of how disgusting bulimia is.  Vile.  Repulsive.  I hope that you, as readers, don't associate who I'm about to describe with the Lindsay you now know.  Because that would break my heart.**
Back to Thanksgiving.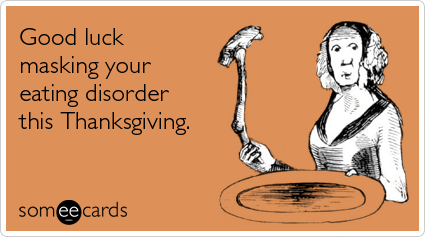 I had already tackled multiple birthday parties and holidays while anorexic.  You simply "fake eat".  After putting very little food on your plate (all acceptable items, nothing unhealthy or God forbid, something that had even touched mayonnaise or butter), you simply scoot things around.  Always eating while talking (a distraction from the fact that you aren't eating) and if possible, while walking around.  I was a pro.
Becoming bulimic opened up new chapters for me, especially for that Thanksgiving meal.  Now, I didn't lose control completely.  That wouldn't happen until months later.  Throwing up was still something new and novel for me and I didn't trust myself yet to go overboard.
My plate contained all of the things I would have normally put on it, only this time, I actually ATE them.  I ate the turkey, the green beans, the small piece of homemade dressing.  And a sliver of pie.
Then, WHILE my family was chatting downstairs, letting their food digest, I snuck upstairs to my bathroom and threw all that food back up.
All the food my mother had spent hours cooking earlier in the day. 
All the food that, just mere minutes ago, we had thanked God for blessing us with. 
And I didn't stop until I saw the first thing I'd eaten: the turkey.  I had to be quiet, cautious with every sound I made, so as to not alert anyone downstairs.
After I was finished, I washed my face and hands.  I scrubbed my teeth.  Careful not to look at my reflection in the mirror.  That girl was evil.  Crazy.  I hated her.
But I needed her to help me reach my goals.
I slinked back downstairs.  Drifted in and out of conversations about when everyone would be putting up their Christmas trees.  I talked and I actively listened.  Anything to take my mind off of the sin that I'd just committed upstairs.
This pattern of eating, purging, then regretting, would continue for another year.
Getting worse before it got better.
—————
If you, or anyone you know, is suffering from an eating disorder, PLEASE get help!  Tell someone!  A friend, your parents, your spouse, a pastor.  And act NOW!!  Living with an ED is a WASTE of precious life and, quite frankly, an act of treason to the body that God gifted you with!
Feel free to talk to ME too!  lindsaymwright at yahoo dot com
—————
splendid…lindsay