It's November 4th!? Where did October (and the rest of the year go)?? Feels like just yesterday, I was complaining about it being too hot and now I have to wear a fleece whenever I leave the house. Not complaining (yet)…I like Fall the best!
And November means one thing apparently….MOVEMBER.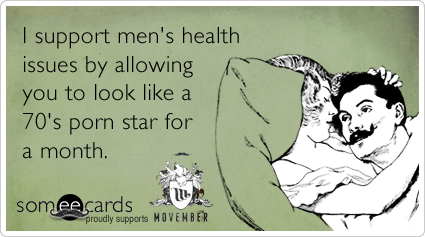 Haven't you heard? Men aren't supposed to shave their beards or mustaches and someone told me that women aren't supposed to shave their legs?  Not sure about the women part.
I can tell you right now – I'll not be partaking in this challenge.  You don't want to see the thistles and thorns that come out of these legs!
Travis, however…well, he's been known to rock a various assortment of facial hair designs.
The "Mountain Man"
The "Mr. Pringles"
And my personal favorite….the "Rapist"
Happy Movember, indeed.
In order to start the new month off on the right foot (where did that saying come from??), I made a list of goals.
Goals are good.  We need goals in order to push ourselves and have a clear and driven focus.  BUT it's all too easy, for me at least, to over do it and make too many or feel let down when I don't accomplish everything I've set out to fulfill.
So this time around, I decided that THREE goals would be enough.  And I tried to make them hard enough to be a challenge, but still something I think I can accomplish!
Goal #1 – Come up with a meal plan EACH WEEK.
I'm ashamed to say it, but as I type, I'm also cooking in the kitchen.  Well, cooking is a questionable term.  I'm heating Birds Eye VOILA up in a skillet.  There.  I said it.
With the show, I simply haven't had time to go grocery shopping or meal plan like I need to!  Our milk expired 4 days ago.  We have 2 eggs left (in a family where egg scrambles are a daily occurrence, that's bad bad news).  The kids have no more Oati-os!  Who can live without Oati-os?!
My goal is to sit down on Sunday night and meal plan for the following week.  Grocery shopping will occur on Monday after I get out our weekly grocery money ($100, if anyone's interested).  This way, I'll have no excuse not to decide what to cook in advance.  And no more Voila's.  I've got to make homemade, blog worthy creations.
Goal #2 – Do yoga at least 4 times this month.
A lofty goal, considering I've done NO yoga in the last 3 months (aside from our Tuesday Trainer – yoga!).  I have the P90x set and Tony has a great yoga dvd in there, Yoga X.  It's 90 minutes of Vinyasa yoga so it definitely gets my heart going and stretches me out at the same time.
Saturday's, Sunday's or during the kid's naptime seems like the most feasible time.  May even try to get Travis to do it with me.  Try, I said.
Goal #3 – Clean off the dining room table.
Seems easy enough, right?
Um no.  Not at all.  This will easily be the hardest goal to attain!!  Mostly because as soon as I clean it off, it will fill up again with JUNK – it's right beside the front door, so it's our "catch-all space".
That poor table is about to buckle under the weight of:
Coupons
Markers
Thank You notes that need to be mailed
Books (Heaven is For Real & A Wrinkle in Time)
Groupons that need to be used, but will probably expire before I get around to it
Worship music
Air Filters for the kid's rooms that need to be changed
And, pounds of magazines that I'll never have the time to read.
Safe to say, I've got my work cut out for me this Movember!  I don't even think I'd HAVE TIME to grow out my leg hair.
QUESTION:  What's on your "To-Do" list?  Do you make monthly goals?  Do you usually achieve them?
I'm off to teach sub THREE classes back to back today!  The show was a smashing success btw!  One down, three to go!  My whole family is coming to tonight's show!  #nervousmuch
splendid…lindsay