I'm welcoming Wednesday with open arms!  (And a early morning run!)
Wanted to say THANK YOU for so much support on the #15minutesforyou Challenge!  I'm excited to see what you guys come up with and how you plan to spend that time each day.  I already have a goal in mind for myself (and it involves Travis – lucky him)!  Remember – we start NEXT MONDAY (June 30th).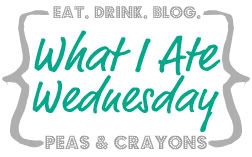 Linking up with
Jenn
today to give you a look at what I ate yesterday.  Sometimes my eats get super boring but I know that if I'm showing other people, I'll try to change things up a bit.  Is that odd?  The blogs holds you accountable in many regards…food just happens to be one of them.  Anyway – here's everything I ate yesterday, save a few handfuls of random stuff here and there that I was too lazy to snap a picture of.  There are SO many great
Blend
swag items in my pantry right now – I didn't even see the theme until I put all these pictures in the post!
Breakfast – (recycled pic)
FlapJacked
Protein Pancakes with extra egg whites and blueberries (must remember to spray the pan!), coffee + So Delicious French Vanilla creamer
AM Snack
Golden delicious + Peanut Butter & Co squeeze pack <-love these
for car snacks!
Lunch
Grilled chicken + side salad + cantaloupe (Ken's Caesar dressing added after pic)
Afternoon Snack
Onnit's Hemp Force protein bar
Afternoon Snack #2
Stovetop cookies
(made these for Everett & Kathryn – had to lick the pan to see if they were poisonous.  They weren't.  Phew. 
What they WERE was too soft so I had to spoon them into an old Christmas-cookie container and make them into a "bar." This happens more often than I'd like to admit.  To top it all, I slapped a big "A" on the top ….for artistic points.)
Dinner
Pizza Hut pizza + salad
(Travis' brother Everett just welcomed a new baby so we took them supper.  Oh my word, he's a cutie!!!  This is how I "cook" when a friend has a baby – takeout pizza and bagged salad and stovetop cookies that don't set up.  Luckily everyone's so busy eating the pizza and the cookies that they don't notice that I'm lazy.  #hoodwinked)
Bedtime Snack
1/2 Quest Cookies & Cream bar (broiled for 1 minute – split with Travis)
(Quest sent everyone at Blend Retreat even MORE swag!  Two boxes of Cookies & Cream
bars showed up on our doorstep yesterday, so we just had to try one out!!  Soooo good!  Thanks, Quest!)
————-
QUESTION:  Best thing you ate all day yesterday!  GO!
splendid…lindsay