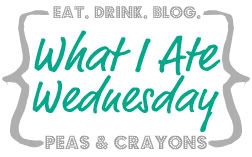 Oh Lordy….today we talk FOOD.
And how amazingly delicious it is!!
  (how on Earth did I go all of those years restricting myself?!!?  Food is so stinkin' good!)
I'm on fire about food right now because for the past month, I haven't really liked it.  Like. At. All.  Extreme nausea and some vomiting will do that to you.  I wanted so badly to share what I was going through with you guys, but I didn't want to pull you into the pregnancy until I knew I wouldn't miscarry (and well, we know how that ended).  As with my previous pregnancies, the morning sickness makes me lose about 10 pounds.  I lose my sweet tooth.  I can barely stomach water.  No veggies.  Salty carbs are my friend.  Lots of saltines – I'd be happy if I never saw a saltine again.
But NOW….now that I'm no longer dealing with those pregnancy hormones, I feel back to normal (and yes, I'd much rather be pregnant and sick).  I want eat ALL THE FOODS.  Sweet.  Vegetables.  Lots of water.  My daily green drink.  My protein pancakes.  I love it all.  You don't understand how much JOY and HAPPINESS food brings you until you can't stand it anymore.
The joy is back.  And here's what I've been eating:
Egg McMuffin, courtesy of a 6am McDonald's run.
Swanson's Super Green Max powder with Bragg's ACV
Chocolate Chip Clif Bar
Justin's Vanilla Almond Butter, courtesy of my best pal.  No spoon required – a finger will do.
Banana…don't mind the chipped nail polish.
KIWI!!  My favorite fruit! 
(Makes me want to buy the ingredients for a Fruit Pizza – do you guys like those?)
THE best cookies ever!  And almost gone.
Butter Lettuce (yum), Cucumbers, Carrots, Feta, & Hummus Dressing (mix hummus with water)
Hillbilly Roasted Marshmallows
A bacon quiche, courtesy of Susanna.  Thank you, friend!
Plant Fusion Protein Pancake + COOOFFFEEEEE!!
A "blessing meal", courtesy of Heather.  Thank you, friend!
Eggs + Quinoa + Mushrooms + Black Beans
Had to save the BEST for last.  Ghirardelli brownies + Reese's PB chips (+ fuzzy slippers)
—————–
What a wonderful thing.  FOOD.  I dare say I'm in love.
QUESTION:  What's the BEST THING you've eaten lately?  (and do you like fruit pizza? if not, leave and never come back.)
splendid…lindsay