Did you know that What I Ate Wednesday's are supposed to be food diaries?  Posts that show readers what you've eaten during one particular day or a few of your best meals over the course of a few days?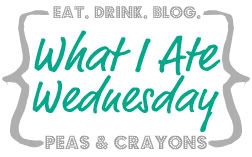 Of course you knew that.  You read rules.
I obviously don't.  For the past few months, I've just been posting all of my food-related posts on Wednesdays and tagging them under "WIAW."  Recipes, guest posts related to food, whatever had a picture of food.  It wasn't until Jenn asked if I was smoking pot that I sat up and noticed.
I swear I'm smarter than I might seem.
So today I will actually participate in WIAW the right way – with a food journal.  Below are all of YESTERDAY'S eats….enjoy!  I certainly did.
———-
Breakfast:
I woke up around 7 to Clara crying out, "Cuddle, Mama."  So I snagged her and brought her back to bed with me.  Soon after, Henry (who is now tall enough to reach his door handle?!?) joined us.  Cuddling and singing ensued for a good 30 minutes before we got out of bed and had breakfast.
They had Cheerios and milk.  I had p28 toast, topped with cream cheese, almond butter, canned pumpkin and cinnamon.  Totally digging this combo right now.  Dipped it into my Pumpkin Spice K-cup.  Plus another swipe of the almond butter.
Snack #1:
After my own workout and between clients at the gym, I got a 200 calorie smoothie from the gym's smoothie bar.
1 scoop chocolate whey protein powder, 1/2 banana, skim milk and ice.
Lunch:
After the gym, we made a play for Walmart to pick up some items for our Operation Christmas Child boxes!  It was SO much fun for the kids (and me) to select toys that we thought other children might like to play with.  Somehow we also ended up with about $10 of toys for Henry and Clara.  Somehow.
When we got home, I was starving.  I fried up two eggs and put them atop a bed of roasted broccoli slaw.  Topped with roasted red pepper hummus and pretzels on the side.
Snack #2:
Around 4pm, I had a Fuji apple with almond butter.
Dinner:
Dinner was special yesterday!  I finally carved out time in my schedule to go to my friend's Recipe Swap.  Every month, Jodi picks a theme and hosts a group of girls at her house.  Under the theme, you submit, cook and bring a recipe to the Swap.  At the end of the night, you've tasted everyone's dishes and come away with new recipes to try out on your family.
The theme for this month: 

PINTEREST INSPIRED!
In typical Lindsay form, I, a) waited until the last millisecond to select a recipe and, b) picked the EASIEST, most plain recipe I could find.  Actually that's not even the worst of it.  I asked the host which recipe I should make and SHE'S the one who directed me to it!  I have this daily competition going on with myself to see just how incredibly lazy I can be.
I'm winning.
Crockpot Salsa Chicken
Ingredients:
1 pound boneless skinless chicken breasts
1 can cream of mushroom or cream of chicken soup (I used the cream of chicken)
1 cup salsa
1 package taco seasoning
1 cup sour cream
Directions:
Put chicken, soup, and salsa in slow cooker. Sprinkle taco seasoning over everything. Cook on low for 6 hours. If shredding the chicken, pull the breasts out and shred; return back to slow cooker. Stir in sour cream and heat just until everything is combined.
I doubled the recipe and added 2 cans of black beans to the mix.  Topped with sliced avocado and served it over brown rice at the Recipe Swap.  Everyone loved it!
My plate (check out how cute it is! Cafeteria style!)
This, x2!
Some of the other dishes from the Swap:
It was so wonderful being around other women my age!  And WITHOUT the kids.  No one stole my food.  Thank you, Travis!
———
That's my full day of eats.  Plus a few handfuls of Ghirardelli milk chocolate chips.  ;)  Remember, I'm perfectly imperfect.
QUESTION:  Do you participate in WIAW?  Have you ever been to a Recipe Swap?
splendid…lindsay