This is going to be SHORT and SWEET.
(where did the sweet part come from that saying?  Is anyone else as fascinated with verbiage history as me?!?!  Self-professed dork, right here.)
Anyway, I'm sick.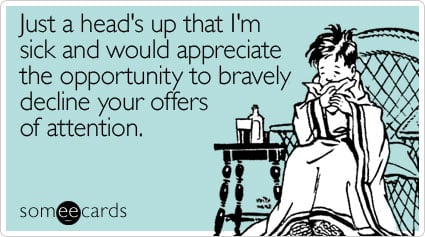 I took yesterday off from posting and training (and exercise) – a horrible stomach bug is going around and it landed in my lap on Tuesday afternoon.  I had to get subs for my classes (HATE doing that!)  and my mom had to take the kids for a few hours on Tuesday night.  I'll spare you the rest of the details.  It rhymes with schma-mit.  A lot of schma-mit out of my schmouth.
I ROCK at being sick too – it's kinda my thing.  I'm whiney.  I'm irritable.  And I'm bossy.  A veritable rainbow of joy. Basically, I like to lay around on the couch and watch Pawn Stars.
You may send any and all get well cards to my secretary, Clara.
Today I PROMISED to give you guys a video for Tuesday Trainer.  (Luckily, I filmed this on Sunday so there is nary a vomit chunk in sight!)
The theme for this week's Tuesday Trainer is YOGA/STRETCHING!!
Here's my move – the Standing Figure 4.
(That cool intro/outro music was provided courtesy of my in house musician, Travis.  Sexy, right!?!)
I left the instructions for uploading in last weeks post, but in case you missed them….
Rules for participation:
Tell us who you are! If you blog, tell us the URL!
Do the exercises correctly! I can't post videos with improper form or sketchy descriptions.
Be yourself – let that personality shine through!
Anyone can participate.
Video submissions are due next Monday, the 8th, at 8pm, EST! Please have them to me before the deadline! Go here to learn how to upload your video.
Now if you'll excuse me, I simply must get back to Pawn Stars.  Must.
QUESTION:  When was the last time you threw up?  What is one comfort that you must have when sick?  <-my flannel pajamas!
splendid…lindsay