I've been meaning to do a "What I Ate Wednesday" post since, well, forever.  But I've just never had the patience to take a picture of every single thing that enters my mouth. 
Because I'd be charging my camera battery on a daily basis.
I'm what you might call a snacker.
Meaning I graze ALL. DAY. LONG.
If you were to ask me what I ate for breakfast, I'd ask which one?  I'm basically a hobbit.
Ever since I can remember, I've eaten like this.  Six or eight mini meals a day.  
Benefits of Eating Mini-Meals:
Better digestion.  When I consume smaller portions, my body has a better chance to break down the food.  There's not a big 500 calorie meal sitting in my stomach.

Higher metabolism.  Smaller, healthy meals = Furnace is stoked!!

Reduced chance of overeating.  You next meal is coming soon.  No need to gobble up everything in sight.
If you don't know what WIAW is, you've been living under a healthy living blogger rock I'll educate you!
And by that, I mean I'll copy straight from Jenn's blog.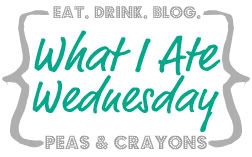 —-What WIAW

isn't

about—-
Comparison – Judgment – Restriction – Guilt
—-What WIAW is about—-
Celebrating one of the glorious things we all have in common: We all eat!
I like the part about we all eat.  Touché.
Some WIAW thoughts:
After doing this yesterday, I noticed that I eat all day long.  And that I exercise all day long. 

I eat too many processed foods (protein powder, protein bars, Annie bunnies).

One thing I'm good at = drinking water!  120 ounces.  Like a boss.

How do food bloggers remember to post pictures every single meal?  Kudos, guys.  I kept forgetting to do it.

I will never be a 100% clean eater.  Sanity reigns.  Chocolate makes me happy.

There were bites of random things that I didn't picture. 

Some I remember:

spoonful of ice cream, handful of almonds, bite of a Fruition bar, a Dum Dum from the bank – Cream Soda – best one in my opinion.
On to the day:
Breakfast #1: 
Most mornings, I play the "pick a bar from the overflowing pile on your way out the door" game.
I chose a Simply Bar and drank it down with fitmixer aminos.
This combo fueled a early morning arm workout. 
Breakfast #2:
I grabbed an unpictured 200-calorie smoothie from the gym while training a client. Ingredients: Vanilla protein powder, banana and skim milk.
Lunch #1: 
After running errands (GNC, grocery store, bank), we came home and made lunch. 
Veggie Sandwich (Smashed avocado, olive spread, sprouts, lettuce, tomato and spicy mustard on w.w. bread) with a side of Blue Diamond Nacho Chips (which are freakin' AWESOME) and a gala apple.
Dessert: Some Cutie Patooties.
And a bear.
Put the kids down for nap.  My mind wasn't right (yelled at Henry too harshly for not listening – I apologized), so I needed to do SOMETHING. 
Yoga X + Prayer
Lunch #2: 
Carrots and broccoli dipped in Roots' Black Bean Hummus (made in Asheville!!)
I picked up some chicken and broccoli slaw at the grocery store while we were out. 
Broccoli slaw always makes me think of Kristin, so I searched her archives and found out how to roast it (it's easy).
Dinner: 
Chicken tenders with roasted broccoli slaw.  And a handful of Ghiradelli chocolate chips for dessert.
After dinner, we sprinted off to the theater for another dress rehearsal (2 days till opening night!).  Got home around 9:30 and had to have something before bed.
Bedtime Snack: 
Kashi GoLean, Cinnamon Puffins, Sunflower Seed Butter and Unsweetened Almond Milk
Phew.  And that's my day in food.  All of it tasty, mostly healthy.  Fueled my body for the day's activities.  Success.
Guess I'm no longer a WIAW virgin!
QUESTION:  What was your favorite meal from yesterday (or today)??  Do you participate in WIAW??
P.S.  If you're a blogger who makes their own images (for recipes or workouts), you simply MUST read Calee's guide to better blog graphics!!  Go here.
splendid…lindsay