What's the last adventurous thing you did? 
Janetha wants to know.
Me too, actually (leave that in the comments – your last adventure!)
I wouldn't necessarily describe myself as adventurous, but I'm open to trying almost anything once (within reason – no meth for me – stains the teeth).
Some of my adventures:
Skipping Kindergarten
Choosing to change my pre-med major to Health Administration
Leaving my high paying consulting job to work at a daycare
Marrying Travis
Moving to Colorado without a job or ambition
Choosing to have children (boy, oh, boy – HUGE adventure!!)
Relying on God for everything
My latest adventure:  Last night, I put marinara sauce on roasted brussel sprouts.  (Aerosmith plays in the background.) 
Janetha has dubbed April as the month that we're changing things up!!  Living on the edge (NOW you get the Aerosmith reference.)
Here's how you play:
Step out of your comfort zone.
Have an adventure.
Take a photo if you can!  That makes it more fun.
Open your email and write a new email to mealsandmoves(at)gmail.com.
Type a sentence or two about your adventure.. include a photo if you took one.. and a URL if you blogged about your adventure.
Type a sentence or two about the results: what you learned, if you enjoyed it, etc.
Press send.
You're entered into that week's Adventurous April drawing!
Genius!! 
And I have a way for US to get our weekly adventure in!!
In the spirit of ADVENTURE, the theme for this week's Tuesday Trainer is "Something New".
I want you to film yourself in a place or in a way that you never have before.  Wear spandex and do a dance, get outside and show me your local playground.  Heck, film yourself bicycling, while wearing a banana suit.  THERE WILL BE NO WORKOUT THIS WEEK. We're exploring our adventurous sides and filming in a place that is new to us! BE CREATIVE!!
Here's my Adventurous April video:
(That swimsuit cost me $7 at the Dillard's outlet in Asheville!  If you're a local, you gotta get over there and check it out – it's in the old Biltmore Mall.
The pastey skin cost me nothing but my dignity.)
Some tips for TT newbies:
Tell us who you are!  If you blog, tell us the URL!
Be yourself – let that personality shine through!
Anyone can participate. Man, woman, blogger, non-blogger, bat-boy.  Anyone.
Video submissions are due next Monday, the 9th, at 8pm, EST! Please have them to me before the deadline! Go here to learn how to upload your video.
To learn more about Adventurous April, simply click the button below!!  Tell Janetha that I sent you, so that I'll get entered into the raffle for the trucker's hat*.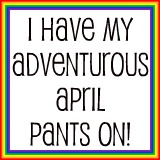 QUESTION:  What's the last "adventurous" thing you did?  Are you a thrill seeker or a stick in the mud more laid back?
P.S.  LAST day to enter the Optimum Nutrition Giveaway!!  TWO winners!!  Go here to enter.  Also, the BLEND site is having a Beanitos giveaway!  Go here to enter that!
*there is no trucker hat.  But wouldn't that be cool!?! 
splendid…lindsay