I definitely felt all the love yesterday!!  Seems to me like we ALL need to take a few things off of our "to-do" lists.  Fortunately for you guys, I do ENJOY blogging tremendously!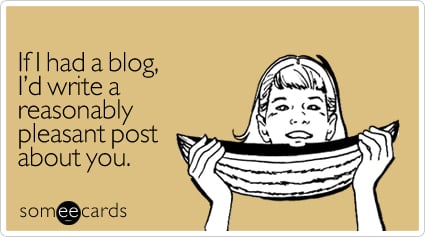 It's (typically) not a chore for me – blogging provides an outlet of expression, and more importantly, a supportive community, that I would otherwise not have!  But sometimes, sometimes it gets overwhelming.  (plus, now I've got this neat, "pinnable" jpeg to use whenever I feel like saying no!) 
Some coffee talk –
So lately, I've been relying a little too much on my afternoon K-cup.  It's like my little naptime treat- the house is quiet and I sit and sip and blog.  But I'm starting to think that my body is getting used to all the caffeine I give it (which isn't much really – 1 cup in the morning and 1 in the afternoon).  Coffee just isn't giving me the energy that it used to – my body has become immune.  Wah-wah.
Anyway, I've been looking for a little more natural "pick-me-up".
In the form of exercise.
With 6-7 minutes of effort, you too can feel refreshed and energized!  Endorphins released, energy level up…a firm tush!  What's not to love!?
Here's what I've done the past week or so, around 3pm.  My little "Afternoon Delight", if you will (minds out of gutter).

Try this one! It's fun!  The 40 burpees might be challenging, but push through!
Let's move on to Tuesday Trainer!
The theme for this week is "My Go-To Superset"!
  As you'll see in my video, a superset is simply a program design tool, where you pair two exercises together and don't rest between them.  If you added another exercise, it would be called a "TRI-SET".  Four or more exercises would be considered a circuit.  Supersets are often used to work opposing muscles in one streamlined design (i.e. a Bicep Curl, paired with Skull Crushers).  When I'm at a loss for what to do at the gym, I almost always turn to supersetting exercises! 
Here's one of my favorite supersets:
Some tips for TT newbies:
Tell us who you are!  If you blog, tell us the URL!
Do the exercises correctly!  I can't post videos with improper form or sketchy descriptions.
Be yourself – let that personality shine through!
Anyone can participate.  Man, woman, blogger, non-blogger, sheep.  Anyone.
Video submissions are due next Monday, the 26th, at 8pm, EST!  Please have them to me before the deadline! Go here to learn how to upload your video.
One more day until Friday!!  I think I can, I think I can.
QUESTION:  Do you drink coffee?  Favorite flavor? (ME – Hazelnut)  Ever had to take a break from it?
p.s.  If you were thinking about coming to BLEND, NOW is the time to buy your ticket!  Prices will increase on April 1st!  Go here to check it out!
splendid…lindsay