We've got some not-so-fun sickies going on at the Wright house.  (as opposed to the fun kind of sickies??)
Me.  The kids. 
Of course, Travis is perfectly fine.  The last time he was sick was 1998.  I'm not kidding. 
So no post today. 
I'd love to tell you that we're lounging the day away, but before I felt sick, I offered to sub two classes today.  Not sure how that's going to go.  I might just proctor and not workout while teaching them. ?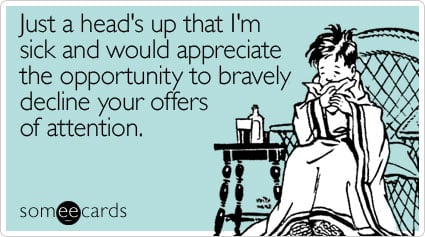 I'll be back tomorrow with our next Tuesday Trainer theme and probably some words strung together as sentences.
Until then, go read the guest post I had the HONOR of writing for …..CHOBANI! 
Just one more check on the ol' Bucket List.  Writing for major yogurt company – check.  Writing for major fitness magazine – here's hoping.
Go read.
**It's also the LAST day to buy your BLEND ticket, for a chance to be entered into the giveaway!!  5 winners will be announced tomorrow! 
Go buy!!**
QUESTION:  What are your "go-to" comfort foods for when you're sick?  ME – stomach sick = Sprite and BBQ Fritos.  Throat/Head sick = Ice cream.
not-so-splendid but getting there…lindsay