Healthy Living bloggers around the world are participating in a little thing called, "What I Ate Wednesday", a link-up party that showcases one another's latest eats.  I'm NOT knocking WIAW, in fact, I think it's a NOVEL idea on Jenn's part!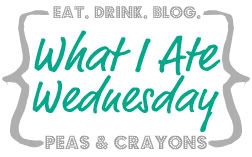 But I'll never be a food blogger.  Or rather, I'll never be a good food blogger.  Sure, I might tell you guys about a great recipe that I came across or happened to fall upon (Turkey Couscous Chili and 4 ingredient Butternut Squash soup.  Squash is one of the ingredients in case you were wondering.)  But I don't have the energy to take pictures of everything that crosses my lips.
Plus, I honestly just eat really, really boring food.  AND I'm a creature of habit.  Case in point:  I've had an egg scramble with broccoli and spinach for, oh, say the last 7 breakfasts.  I need to switch it up.  If you're interested, here's what that looks like.
Yeah….I wasn't all that interested either.  Wanna know something?  That's a RECYCLED photo!  I can't even be a good at being a bad food blogger!
What I CAN show you today are my recent WINNINGS!!  Yep, it's bragging time.
Pretty much every single day, some blogger is giving something away.  Just GIVING stuff away!?!  Sure, you have to jump through hoops to get it  and you're never guaranteed a win, but if there's even the slightest chance of me getting something for FREE, I'll JUMP!  Just tell me what to tweet how high!!
The thing is, not only do I enjoy entering these giveaways, I'm pretty lucky at winning them!  In the last 2 months, I've won 4 giveaways!  Now I know what you're thinking…Lindsay, if you enter 10,000 giveaways each day, winning 4 really doesn't mean you're lucky.  And I KNOW that.
It just means I'm awesome at being randomly chosen.
A little "What I WON Wednesday" action! (in chronological winning order!)
Fat, Sick and Nearly Dead DVD and Book – Spabettie
This one was funny, because Travis and I watched this documentary the VERY NIGHT BEFORE Kristina hosted the giveaway.  If you haven't seen it yet, you totally should (it's streaming on Netflix).  It's about these two guys who go on 60 day juice fasts and "reboot" their systems.  They both end up losing gobs of weight and improve all of their health indicators (cholesterol, blood pressure, body fat %, etc).
Very inspiring, just like the lady who sent it to me!  After watching the documentary, I was immediately inspired to juice any and everything.  But we don't have a juicer…wonder where I could get one to review, ahem Breville.
PureFit Protein Bars – Chelsey
On this one, I actually didn't win first prize.  I was a runner up, meaning that I got a coupon code from Daily Gourmet.  This made these PureFit bars really reasonable.
They were kind enough to send samples of their other 4 flavors.  Check the stats.
Not too shabby!  And for 220 calories, the size of the bars seem huge.  I've yet to give them a taste test, so I can't vouch for them completely.  I'm sure with the chaos that starts tomorrow (opening night of the show), I'll be pressed for time and grab one of these.
Peet's Coffee Coupons – Holly
Look at that handwriting!!  As someone who spent her childhood practicing cursive Lindsay's and doodling in her Lisa Frank notebooks, I consider myself an expert handwriting judge.  Holly passes with flying colors.
The stamp is super cute too!  How very "green" of her.  Last week, Holly reviewed some Peet's coffee and gave out coupons.  This caffeine addicted, couponing housewife nearly woke her kids up when she saw this post.  Well not really….I just emailed Holly and she sent me these, but still, it was exciting.
Healthy Bites – SheRocks (& Lindsay)
Last one, and perhaps the best!  SheRocksFitness held a giveaway for a dozen Healthy Bites, made by one of my good friends, Lindsay Cotter.
I actually DID giggle a little when I found out I won, because I was about to order some of these anyhow.
I received four flavors:  Cookie Dough, Whey Good, Apple Cinnamon and Pina Colada.
I have NO shame in telling you that there are no more Healthy Bites in the Wright household.  And we received them yesterday.  They're THAT good!  My favorite flavor:  Cookie Dough.  But really, they were all so good.  Mostly vegan, high protein, organic ingredients!!  Check them out on Facebook!!
———–
Looking back over the post, it  was just one big product review and "look at me, I won" self-promotion.   I'd like to tell you I'm sorry, but I'm not.  Whenever a good friend has an awesome product, or sends me a cute letter, or I win something that I feel like raving about, I just have to tell people.  Word of mouth is the best advertising, right?
Plus, if you can't tell your friends when something good happens to you, who can you tell?  And I consider you all FRIENDS!
Friends who put up with my annoying tweets and over the top bragging.  Dear, dear friends.
splendid…lindsay