**I've decided to split this HUGE, emotionally draining post into TWO parts.  I plan to post Part II a week from today.  I also have intentionally NOT included pictures of my ED self, so as to be sensitive to those who are triggered by visuals.**
It's Tuesday afternoon.  After a full morning (6 mile run, cleaning, laundry, and playing  countless games of "Light Saver" with Henry), I'm finally getting to sit down.  The kids are asleep.  The house is quiet.
Now seems as good a time as any to tell you about my past.
My Eating Disordered past.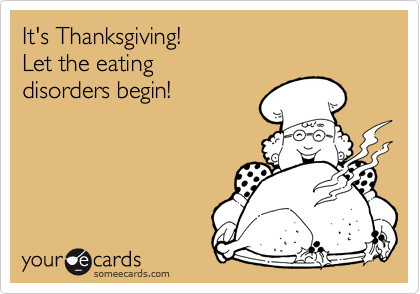 Or rather, my eating disorder that is MOSTLY in the past.  Because try as you might, once you've had an eating disorder, you'll always have an eating disorder.  I don't mean that in a degrading or debilitating way to anyone who's currently struggling or has struggled in the past.  It's just the truth.
I'll always have issues with food.  I'll always be afraid that I'm going to lose control.  It's just that I NOW know how to cope and deal with those issues, but it doesn't mean they're not there.  In fact, I'd go so far as to say that I've just taken my restrictions dealing with FOOD and replaced them with OVEREXERCISING!  This is an issue I'm well aware of and I try to work on daily.  I'm still a work in progress – I'm just thankful that God hasn't given up on me yet.  Or Travis.
———–
The Beginning
I can't really remember the exact moment in time when I decided to restrict my calories.  It roughly started when I was a Junior in high school.  As most ED's go, I'm sure it started innocently enough when I wanted to go on a "diet" to lean out before cross country season.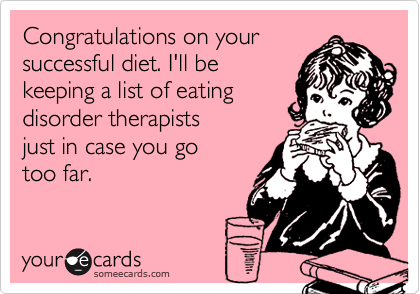 I am in NO way blaming my mother for my ED.  I did it to myself.  She would NEVER have told my sister and I that we were fat or that we needed to diet.  She also praised us for any accomplishments that we had and did an amazing job making me feel like I was worth something!!  So again, I think it bears repeating – My mother was NOT the cause of my eating disorder!  Hi, Mom.
BUT, growing up, I can't remember a time when my mom wasn't on a diet or complaining about her weight. The Grapefruit diet, Slim Fast, Atkins…you name it, she tried it.  And it was always cyclical – she'd start one, lose a few pounds, go back to regular Southern eating, and gain them back.  Only to find another diet the next time around, because maybe it would be a solution.
I thought that most women went on diets.  That most women were uncomfortable with their bodies.  I actually still believe that.  Societal pressures and the media put a HUGE burden on women and make it very hard to be anything but thin.  Worse than that, WE do it to ourselves!  Striving for perfection – whatever that might be – and seeking to have CONTROL over something that shouldn't be overly controlled.
Control was just what I needed.  It actually fit my personality very well.  If I wanted good grades, I just controlled how often I studied, spending any spare time I had outside of sports to read and study.  If I wanted a better boyfriend, I controlled my actions – I found out about what HE wanted and the type of girl that HE liked and I just did those things and became that person.  If I wanted to run faster, I simply became more disciplined and trained harder.  Control came easy.
A little too easy.
The Rocky Middle – Part I
Like I said, my diet started out as a way to get fit before beginning cross country season my Junior year.  I was by no means fat or even a little overweight.  I was a normal weight.  (I'm not going into numbers in this post btw.)  My initial goal was to lose 5 pounds.
And then 10.
And then 20.
At first, I just started by eating smaller portions.  Instead of having my nightly fix of 8 or 9 Oreos and a big glass of milk, I'd just go to bed without it.  I stopped going back for seconds at dinner.  Where as I used to hide 4 Little Smokies under my Mac & Cheese at lunch (the limit was 4, to be placed ON TOP), I'd simply have a small dish of just the Mac & Cheese, thank you.
I dropped those 5 pounds easily.  With minimal effort.  I could DO THIS!  I was in control.  But no one really noticed.  No one said "Good job!" or "You look really thin!"
So I kept going….until they did.  I craved that attention.  Looking back, the two factors that fed this disorder were a) me needing to be in control and b) me needing to HEAR that my actions were producing results.  
After that initial 5 pounds came off, I REALLY started restricting my calories.
A sample day:
Breakfast:  Nothing
Lunch:  1 1/3 cup Honey Comb cereal (sad that I still know that this contains 110 calories and .5 grams of fat)
Snack: 1/2 stick sugar-free gum
Cross Country Practice:  600-800 calories expended
Dinner:  1/2 Baked Potato and 1/2 cup steamed vegetables
Bed.
You do the math.  That's maybe 300 calories for the entire day.  And I lived this way for nearly 2 years!  Just typing this out, I get teary eyed thinking of all the time I wasted being consumed by my ED.
I dropped weight FAST.  Within a 3-4 month period of time, my body grew hair, technically called lanugo, all over it.  My arms were covered in downy "chick fuzz".  I lost my period.  My nails were brittle.  My once thick hair started to thin.
I was able to hide my anorexia from my parents, yet another "fun" part of this whole messed up disorder.  I could drive myself to school, so I was always the last to leave the house.  For two years, my mom thought I was eating breakfast and packing my lunch, when really all I did was measure out a measly bag of Honey Combs.  She would even buy me sandwich meat and bread, which I would throw out to make it seem as though I was eating sandwiches for lunch.
I wore semi-baggy clothing to hide myself from scrutiny.  Which seems odd, because at first, that's all I wanted – for someone to notice that I was thin.  As my anorexia grew worse, my thought process shifted.  I didn't want to be stopped.  I didn't want anyone to know and take back over.  I only wanted to get smaller.  And smaller.  And smaller.
It wasn't until the fall of my Senior year, that someone noticed and said something.  Only it wasn't the person who I needed to hear concern from.  And I certainly wasn't ready for help.
**Come back next Wednesday for Part II of my journey.  As always, thank you for reading and for being a sensitive, supportive community!**
QUESTION:  Have you ever dealt with an eating disorder or disordered eating?  This is a safe place  to share.
splendid…lindsay