I'm not even going to toy around with you guys…we'll just jump right in to what I know you all came here for:
Did you know that the *NEW* winner of the Chobani giveaway is….
#32 – Christin @ PurpleBirdBlog!!
Weeeeeeee!!  Happy Friday to you!  Email me with your address and flavor choices!!
Did you know that Thanksgiving is less than a week away?!? Cuh-razy!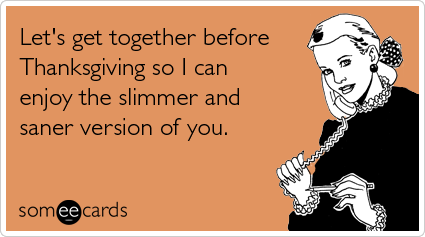 Remember when you were young and all you had to worry about was if you finally graduated to the Adult's table?  Or what toys you were going to hide away so your cousins didn't mess up the braid you put in Barbie's hair.  Not a care in the world about baking or cooking!
Yeah…I'm still there.  I'm still sitting at the kid's table (not literally…it's out on the cold side porch.  eww).  My mom always makes the obligatory call, "Honey, what do you want to bring for Thanksgiving this year?"  But we all know.  We know.  It's a pity call.  She's scared stiff that I'll bring either a) a salad, because it compliments Deep Fried Turkey so well, or b) something burnt.
This year, I'm picking up five packs of frozen Sister Schubert's rolls, paying with coupons, taking them over to mom's and having HER cook them.
Contribution, indeed.
Did you know that I was NOT chosen to be Jasmine (or Jafar) in Aladdin?  Sad, I know.  But the upside is that someone has offered to help me with the role I DID get: Harem girl!!!
Start at the very bottom and work your way up!
First, he's my lawn fitness photographer.  Now, my harem trainer?!?!
Am I a lucky girl or what?!?  You're not allowed to say "Or what".  I asked.
Did you know that I have a new food obsession?  Yep.  Beanitos.  (And no, I wasn't paid to say that, they have no clue who I am)
These are addicting – I'm on my second bag.  Eaten straight from the bag or dipped in hummus (or yummus), they taste just like black beans.
Beans DIPPED in beans??  I like it.
I'm thinking that you could make these in a dehydrator?? (that was a challenge, Mrs. Kristina!)
Did you know that the Franklin division of "Run For Their Lives 5k" raised $1,061?!?!  (maybe I already told you that, can't remember)  That's is a whole lot of days out of the brothels for these girls!
Here's a recap of the Lynchburg race (where it all began):
Inspiring, no?  I have big plans for this race next year!  So glad to have helped!!
Did you know that there is a website called, Awkward Family Photo??  It's hilarious and a complete time suck.  It's basically a website where people submit their horrible family photos for the delight of all who witness it.
If you or any of your family members are in the following pictures, well, then, I'm sorry but I'm gonna have to make fun of you, your wardrobe and the Tom Selleck cut-out that you used as a prop.  My hands are tied.
Actually, I'm not even going to comment.  I'll just let the photos speak for themselves.
A few of my favorites:
Alright. I can't do it.  I'll try to keep it to a four  five word maximum.
"Uh…Laura Ashley called…"
"Surprise!!!…we're creepy Idontknowwhats!!"
"Boom!  That just happened!"
"Bound to have mommy issues"
"Angry Birds/Happy Farm??"
"It was a different time"
You're welcome.
And lastly….Did you know that the Blogger's Retreat that I had hinted at before IS a REALITY?!?!?
Yes siree.   The 2012 BLEND Retreat, so named by Susan – combining "Blogger" and "Friend", will take place May 4th-6th at the historic Chautauqua Park in Boulder, Colorado.  Since lodging is squared away, we're now sending out Sponsor Packets (if you know of any companies that would like to be associated with this awesome event, please let me know!).  Stay tuned for more information!!  SOOOOO excited about this!
————-
Gotta jet.  I've got an appointment with my acting coach.
QUESTIONS:  What are you contributing to the Thanksgiving feast?  Any awkward family photos you'd like to share??  I promise to keep my critique to a five word maximum.  Are you as excited as I am about BLEND??
splendid…lindsay